StarFest
2019
Behind the art...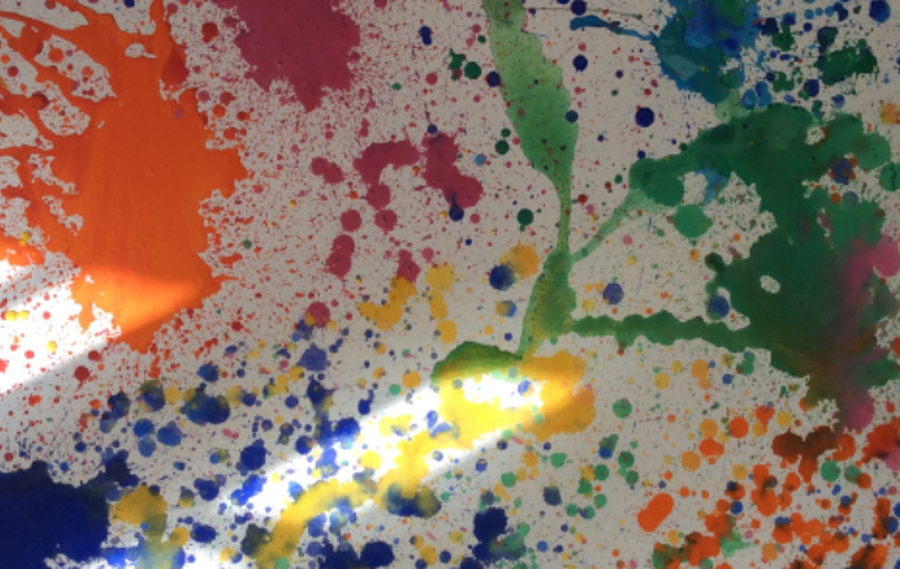 Rainbow class have been inspired by the artist Jackson Pollock. He was an American painter who was an important person in the abstract impressionist movement.
By pouring and splashing paint onto his canvas he created his famous 'splattered' styled pieces.
Pollock has been quoted as saying: "The painting has a life of its own. I try to let it come through. Painting is self-discovery. Every good artist paints what he is. Every good painter paints what he is."
Rainbow class has created their artwork using Pollock's methods and vision.
Violet
Violet class have been inspired by the artist Kandinsky (1866 – 1944) who was a Russian painter and art theorist. He is often referred to as the pioneer of modern art. He was one of the most important 20th century artists.
Violet class have specifically been inspired by 'Composition 8' - a piece featuring strong lines and bold colours. They have chosen to create a similar piece of personalised work.
Using paint, the class have focused on using a range of textures and it took them several days to complete.
Amethyst
Amethyst have created a piece of art inspired by a modern artist and their artwork involving birds. The class have chosen to use their chosen artist as an inspiration for their own 'Big Art'.
To produce their artwork they have experimented with a range of collage and sketching methods.
Indigo
Indigo class have linked their artwork to the artist Helen Gibson, an artist who is also known as 'The Perky Artist' due to her passion for using bright colours and eye capturing designs. Her speciality is producing colourful pieces of artwork.
They chose this artist because they have been learning about animals, so they wanted to create some of their own.
The class were inspired by the artwork 'Funimals' and other abstract artworks.
They have used acrylic paints to create their 'Big Art'
Sapphire
Sapphire class have selected an artist who creates Australian aboriginal art, Betty Mbitjana. Her work comprises of lines and shapes linked to aboriginal culture and rituals. They often feature repetitive patterns and create a sense of movement and colour.
The class were inspired by lots of the artists' works all they found the, very distinctive and liked the style of the work. The unusual lines and shapes appealed to them.
To produce their own version of Betty's work Sapphire will be using acrylic paints and working together, collaborating ideas through compromise.
Turquoise
Turquoise class have been inspired by the artwork of Beatriz Milhazes, a Brazillian artist who is still alive. She was inspired by Henri Matisse and Wassily Kandinsky who also created bold abstract designs with bright colours.
The colours and shapes used in her work appealed to the class and they liked the geometric patterns. In particular 'Blue Elephant' and 'Carambola' have inspired them.
The class designed their own are using mixed media and Milhazes's designs as their inspiration. They particularly enjoyed learning how to use different mediums.
Jade
Using the work of the artist Alma Thomas, Jade class have been inspired to create their artwork in a similar style. Alma Thomas (1891 - 1978) was an American who was the first black woman to have her artwork put on display in The Whitehouse, where the American President lives.
Jade class chose their artist because they found her artwork interesting and liked the abstract style. They have used 'The Eclipse', 'Starry Night' and 'Astronauts' to inspire their own creation.
Using acrylics, the class ensured that every member of Jade class's ideas were incorporated into the final piece.
Blue
The artist Pauline Boty has been the inspiration for Blue class's 'Big Art'. She was one of the founders of the British Pop art movement and the only female painter in the British part of the movement.
Blue class liked the vivid artwork that she had created and the famous people she had painted. In particular they were inspired by 'With Love to Jean Paul Belmondo' and 'Monica Vitti with Heart'.
Their artwork is a similar piece of work, drawing inspiration from the lines and shades used. To produce a vivid effect they have used acrylic paints.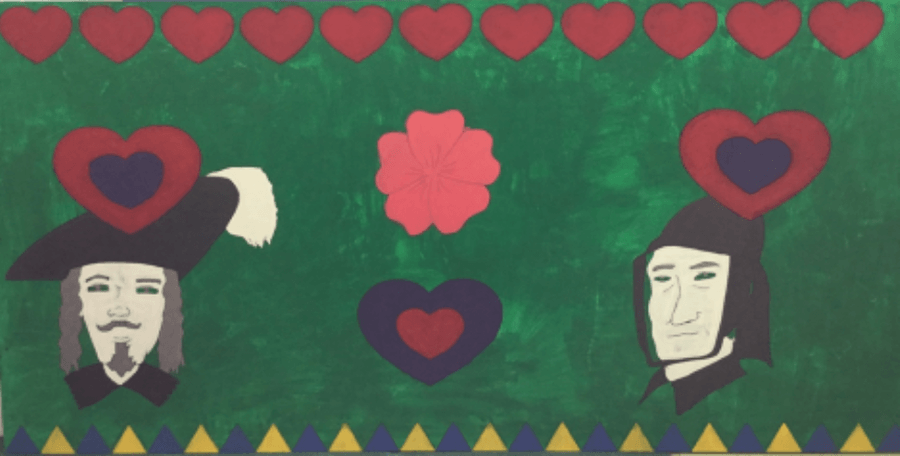 Green
Yayoi Kusama has provided the inspiration for Green class's artwork. She was born in Japan in 1929. When she was 7, she had a dream about dots and ever since she has seen everything as dots. She is inspired by American abstract impressionism and is nicknamed the 'Princess of Polka Dots'.
Green class thought her work was amazing and all her paintings inspired the class. They have created a personal piece which has also copied elements of the artist's work using acrylic paints which they have painted directly onto a board.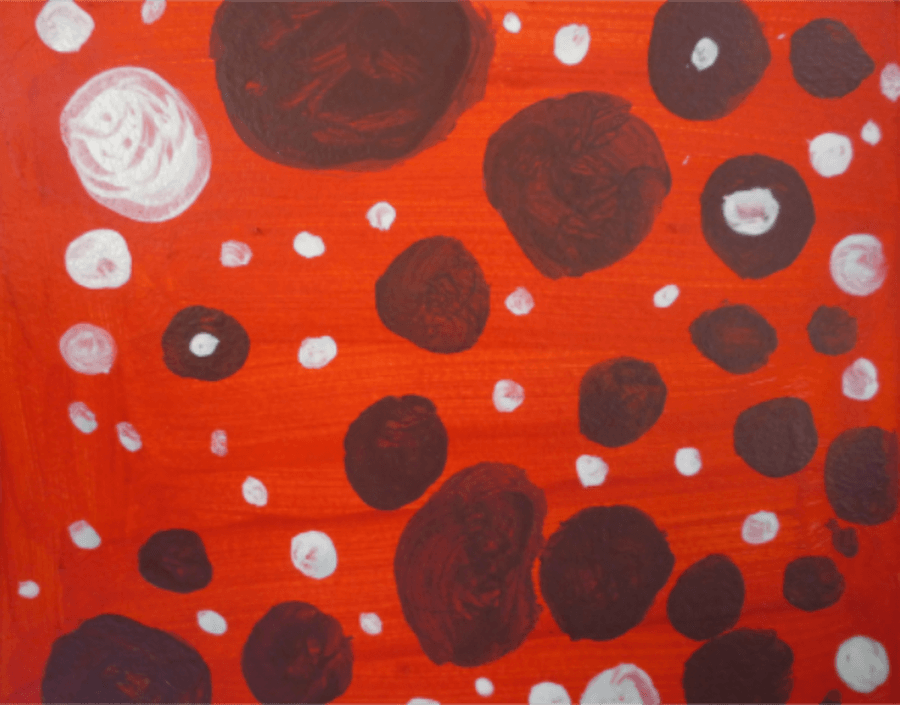 Yellow
Yellow class's artwork is inspired by Shinique Smith, an abstract artist who uses a range of media, including collage, in her artwork. She is an American artist who has produced both 2D and 3D artworks.
Yellow class chose this artist because they thought her art was funky and colourful; She also inspired the class to consider the nature of the things that we consume everyday.
Yellow class decided to create an abstract collage linked to both their text (The Animals of Farthing Wood) and their concern for the impact humans are having on the environment. They were inspired by the pieces 'Sometimes I Wonder' and 'World Wind Dancer'.
Using acrylic paints, fabric and recycled materials the class have been inspired to create a unique piece of art.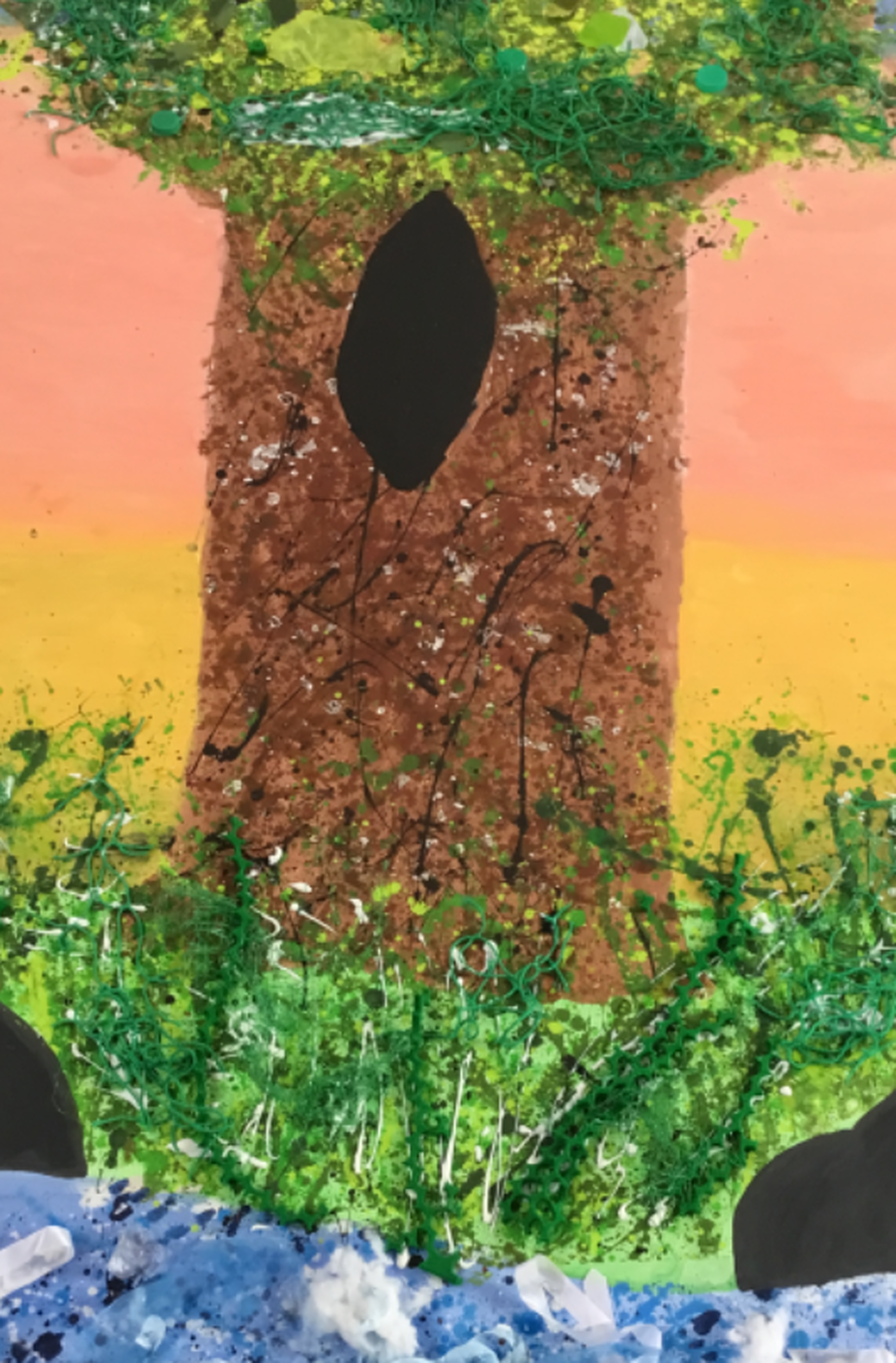 Topaz
Topaz class have created their artwork based on works by Hal Lasko and Josh Salon. The artwork has been produced using the pixel art method - an artwork made out of tiny squares.
Hal Lasko (1915 -2014) was fondly known as Grandpa Hal. Topaz were learning about pixel art and selected him as they felt he was a crucial influence on that style of art.
The final artwork has been inspired by his work and the class has designed their own personalised version of pixel art. The final piece has been created by painting lots of small squares, using shading to create the final image. They were also inspired by the novel 'The Animals of Farthing Wood' and combined pixel art with a forest scene.
Orange
Orange class has focused on the artist Timothy Furey, who was born in cork (Ireland) and is currently working in London. They chose this artist because the whole class found him interesting, especially the dualism and the 'myth' double sided painting.
The pieces of art which have influenced them the most were 'Mr Quinn I Presume', 'Shoelaces' and 'Lemon'.
They have chosen an abstract, modern style for their final composition, linked to the artists original works through including an element of 'reverse'.
Amber
Amber class have been researching the artists Georgia O'Keefe and Simon Knott.
Georgia O'Keefe (1887 - 1986) was an American artist who was known as 'The Mother of Modernism'. She was famous for her love of painting flowers which spilled off the edge of the canvas.
Simon Knott is a local artist whose works have a similar feel to Georgia O'Keefe's, larger than life and filling the canvas.
The class was inspired by the artist's beautiful artworks featuring poppies, bumblebees and flowers. They were also inspired by their learning - insects and flowers - during science lessons.
The final piece has been created using heavy weight cartridge paper and acrylic paint. The greatest challenge was ensuring the 'flow' of the painting between each individual piece.
Red
Installation of Education
'Redopolis'- Myself and my class sculpture- 3 Dimensional painted clay work
Red Class have designed a piece of artwork called 'Redopolis.' They have been inspired by artist's called Lubna Chowdhary, Norval Morrisseau and Henri Mattisse.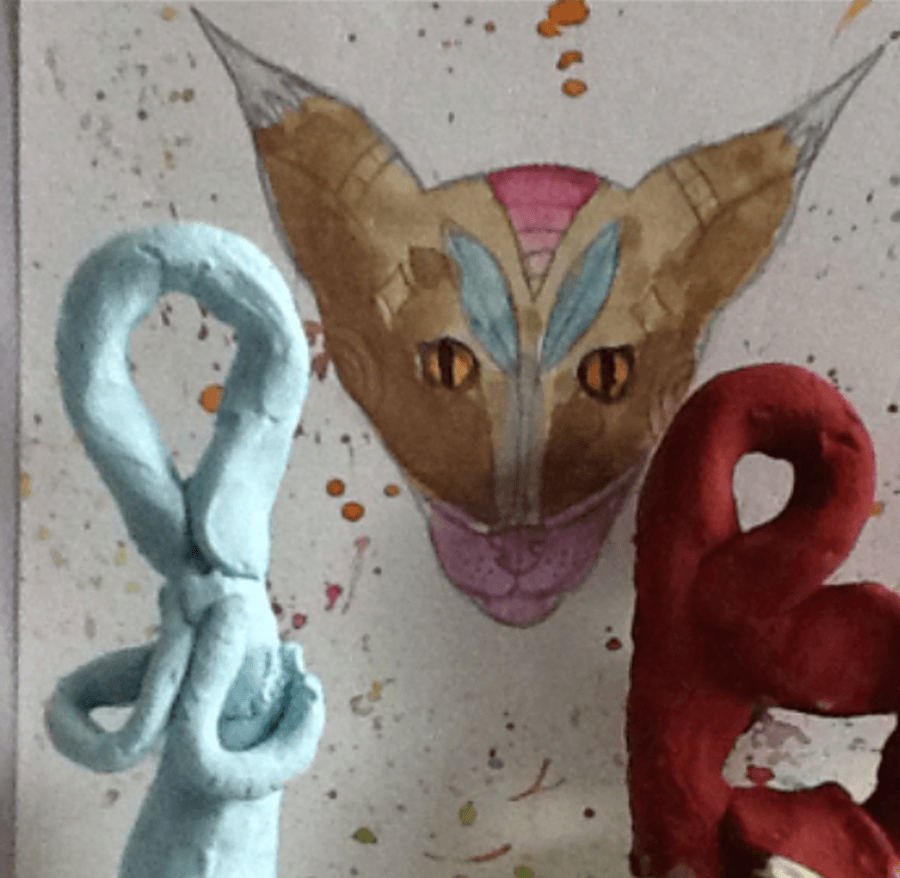 Ruby
For StarFest, Ruby class was inspired by Rachael Haines who is based in London. The class were lucky enough to meet the actual artist and spend some time with her in school after viewing some of her artwork online.
Of particular interest to the class was her exhibition entitled 'Mock Tudor' which took its inspiration from Tudor architecture. The class made close links between this and their own learning based on the Tudor period in history.
Haines' strong lines and colour contrast have been recreated by Ruby class using paints and a range of tapes to produce the effect of a tudor building.
Her modern artistic style led to Ruby Class recreating (with slight changes) a similar piece of artwork as part of StarFest 2019.