Curriculum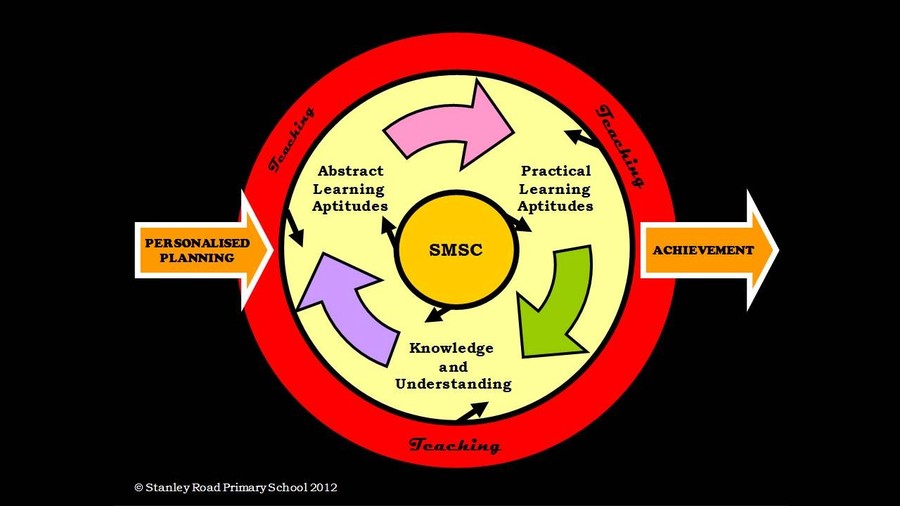 This diagram shows the MICRO Curriculum - how we consider the important aspects of teaching at Stanley Road.
1 Abstract Learning Aptitudes
This is what happens in the children's minds - the thinking that they do.
2 Practical Learning Aptitudes.
This is how children learn with their bodies.
3 Teaching
This is what the adults do and includes everything we say and the whole learning environment.
4 SMSC
This is the social, spiritual, moral and cultural qualities which underpin learning. We have placed it at the heart of the diagram as it is at the heart of learning ... the engine which drives our success.
View these diagrams in detail by clicking on the above gallery.
Priorities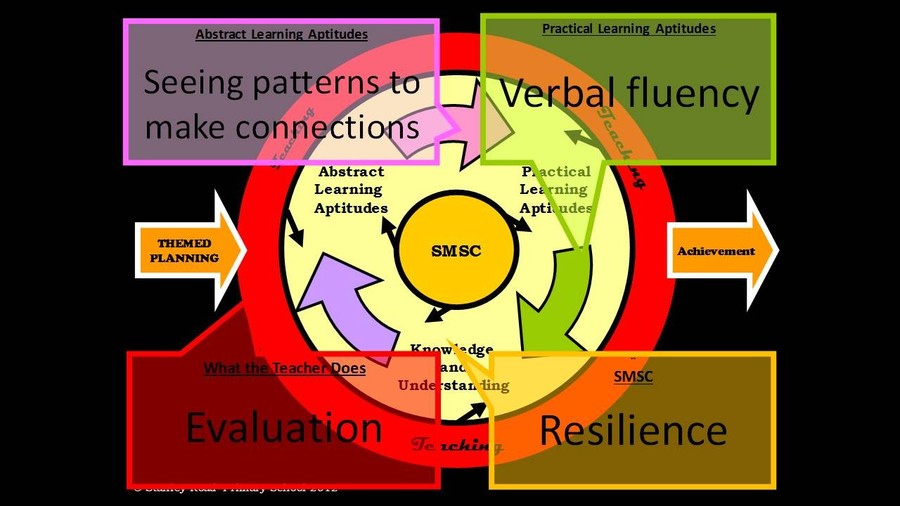 This diagram shows the things we believe are of crucial importance. We try to give opportunities for the in every learning experience:
Seeing patterns
This is an abstract skill which allows children to make connections in their learning. If you know that 2+2 = 4 you should be able to work out that 20+20 makes 40 and 2000 + 2000 makes 4000 without resorting to a calculator.
Verbal Fluency
This means encouraging children to speak clearly, with increasing sophistication; to challenge them to describe their learning, to reason, rationalise and explain. It means asking for the correct vocabulary and rewarding full-sentence answers.
Evaluation
We ask teachers to regularly and consistently make time for evaluation. Children make value-judgements not only on their own learning, but on how hard they worked, if they made useful mistakes, how easy the task was, what they could do better next time and what they thought of the teaching.
Resilience
Resilience is the quality of character which causes children to work independently, to recognise useful mistakes, to try, try, try again, to never give up and to persist without losing self esteem.